At Love Your Animals from time to time we may schedule  Free Community Dog Walks. These walks are an excellent opportunity to socialise your dog in the correct manner.  Please call/message us or email us for information of the next free group dog walk.
Call us 07717 455 781  or Email us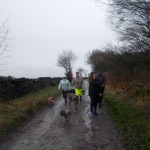 If you're thinking of organising your own group dog walk or dog socialisation event then you may find the following advice useful:-
We know you love your dog. We all have a duty of care towards members of the public and other dog owners to be responsible and considerate dog owners. Everyone should be able  to enjoy walking in the countryside or parks, without the fear of being worried or attacked by dogs. We also want a safe environment for children where they can grow up without an inherent fear of dogs. Below are some points that may help us all achieve that:-

In the world we now live we are at risk of losing our rights to enjoy our pets if we don't abide by some basic laws. In many countries around the World, dogs are NEVER allowed to run free and always have to be muzzled when in a public place. Unless we all act as responsible dog owners our laws on 'dog control' in the future may change to be more restrictive. What a sad day that would be if we lose the right to enjoy the good relationships we have with our dogs, neighbours and fellow walkers on the basis we all enjoy today.